Food engineering lab members at IFT!
Karen presenting her poster on "In vitro protein digestion of high protein beverages after thermal processing" at the IFT Annual Meeting in Las Vegas, NV (June 2017).  Karen also won 3rd place in the Oral Presentation Competition in the Protein Division. Congrats, Karen!!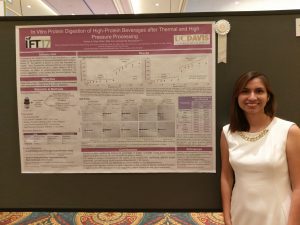 Alex presenting his poster on "Softening half-time and normalized final hardness as indicators of food structural breakdown during in vitro digestion" at the IFT Annual Meeting in Las Vegas, NV (June 2017).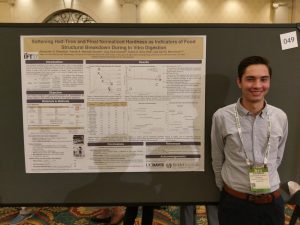 Undergraduate interns Aaron (L) and Hongchang (R) with graduate mentor Yamile (middle) presenting their posters at the UC Davis Undergraduate Research Conference (April 2017).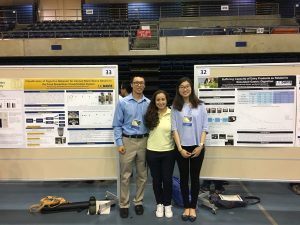 Food engineering lab members showcasing digestion of breakfast cereal in our Human Gastric Simulator digestion unit as part of the BAE exhibit during Picnic Day! (April 2017)
Clay presenting his poster on "Physical property changes in soaked and activated almonds" at the Almond Conference in Sacramento, CA (December 2016). 
Prof. Bornhorst presenting about "Biodisponibilidad y su importancia en al industria de los alimentos saludables" (Bioaccessibility and its importance in the healthy food industry) at the III Foro Innovagro in Chile (August/September 2016).
Yamile and Prof. Bornhorst at Yamile's poster presentation "Antioxidant bioaccessibility of fresh-squeezed orange juice and orange juice from concentrate after thermal and non-thermal processing" at the IUFoST 18th World Congress of Food Science and Technology in Dublin, Ireland (August 2016).
Yamile giving an e-poster presentation at the IFT Annual Meeting in Chicago, IL (July 2016) on some of her research on mass transport processes and breakdown of red beets during simulated gastric digestion.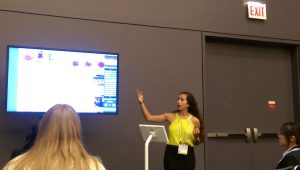 Yamile & Krista presenting posters at the IFT Annual Meeting in Chicago, IL (July 2016)
The BAE Food Engineering Lab had a great display on Food Digestion at Picnic Day (April 16, 2016)!! Some of our lab members were explaining about gastric digestion to the visitors, and showing off one of our gastric models. 
Clair presenting her poster at the 2016 Undergraduate Research Conference, with PhD Student Mentor Yamile Mennah and Prof. Bornhorst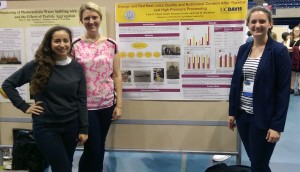 Congratulations to Yamile – one of the 3rd Place Winners at the RMI 2015 Graduate Student Research Poster Competition!!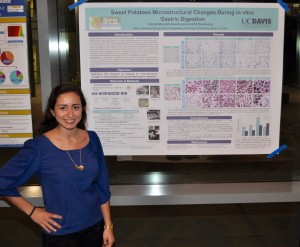 (Photo by Mike Tentis)
Showcasing our Human Gastric Simulator (HGS) at the Transformation Lab during the Institute of Food Technologists (IFT) Annual Meeting in Chicago, IL (July 2015)
Yamile presenting her poster and e-poster "Sweet Potato Microstructural Changes during in Vitro Gastric Digestion" at the IFT Annual Meeting in Chicago, IL (July 2015)
Yamile presenting her poster "Acid Diffusivity and Texture Kinetics of Sweet Potatoes during in Vitro Gastric Digestion" at the ICEF Meeting in Quebec City, Canada (June 2015)