My general area of research focuses on understanding the influences between localized bathymetry and the surrounding water column. As much of this work is on a scale logistically difficult (e.g. large scale shorelines) or impossible (e.g. under-ice) to survey with traditional techniques, I have worked since 2006 with Autonomous Underwater Vehicles (AUVs) as data collection platforms to further my research. My research aim is to continue developing a engineering research group with these vehicles and other emerging technologies to address pioneering scientific questions. The aim requires expertise in varied domains including: (i) environmental fluid mechanics; (ii) bathymetric mapping; and,(iii) invasive species identification and ecosystem assessment. Bringing together these diverse fields, enables an understanding of aquatic habitat and ecosystem assessment not previously available.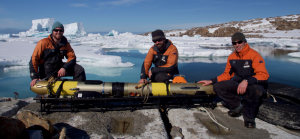 Nathan Kemp (Blue Ocean Monitoring – Australia), Damien Guihen (Australian Maritime College – University of Tasmania) and Alex Forrest (University of California – Davis) ballasting an AUV for deployment at South Korean Jang Bogo Station in Antarctica (January, 2017)
In a broader sense, from lakes to oceans, I believe in having the right tool for job at hand have worked with a wide variety of conventional and leading edge techniques to observe and monitor our water resources. From developing glider systems for ongoing work at Lake Tahoe to modelling sediment transport around water infrastructure, each tool expands our capacity for observation in a world that's inherently complex and transdisciplinary in nature.