UC Davis engineers have invented shaking and inversion machines that have become a critical part of the UC Davis Genome Center's award-winning asymptomatic COVID-19 testing. The machines, designed and built by biological and agricultural engineering (BAE) development engineer Dennis Sadowski, professor Stavros Vougioukas and postdoctoral researcher Zhenghao Fei in just six weeks, help treat saliva samples so they can be tested for the virus.
One of the most important steps in the Genome Center's testing process is mixing the viscous saliva samples with papain protease, an enzyme that makes them less sticky so they can be used in a pipette later in the process. Saliva is very thick, so to mix the enzyme evenly into the samples the lab needs to vigorously shake and invert them.
The shakers automate this step and can process 768 saliva samples at a time across eight cartridges. They shake samples for three seconds, rotate them 180 degrees, and shake them again, repeating this process 50 times—about five minutes. Since being deployed in February 2021, the two shakers have handled an average of 3,000 to 4,000 samples per day.
"After this process, the samples are perfectly pipettable without any problem," said Froenicke, the Genome Center's DNA Tech Core manager who oversees the COVID testing lab. "It's what enables the rest of the testing."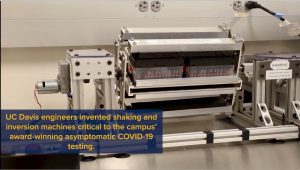 https://engineering.ucdavis.edu/news/engineers-invent-machine-shake-uc-davis-covid-19-testing